User could find many disk recovery tools on the internet. But it is difficult to distinguish which is the most appropriate one. A powerful data recovery tool could indeed recover disk data while the ordinary data recovery software merely recovers one of specific types of file. Additionally, excellent data recovery software could recover multiple types of file efficiently from different operating systems and file systems. However, such powerful data recovery software is scarce and expensive. Fortunately, MiniTool Power Data Recovery is the very data recovery tool with powerful functions. For every user, disk data protection is vitally important:
How to protect disk data?
1. Avoid power failure to operating hard disk.
2. Avert external strike to hard disk to avoid hard disk physical damage.
3. Don't browse any virus ravaged websites.
4. Never use unknown software.
5. Perform periodical virus detection and killing upon hard disk.
6. Be cautious of file deletion.
The probability of data loss would be greatly reduced if user succeeds implementing above tips. Or if encountering data loss, user should merely find a data recovery tool to recover lost data. MiniTool Power Data Recovery can be the best choice.
How does MiniTool Power Data Recovery recover disk data?
User should firstly download MiniTool Power Data Recovery at
MiniTool Power Data Recovery Download Center
and install it to computer.
User would come to interface below after running MiniTool Power Data Recovery.
Unregistered user should check the red zone and click "Launch Power Data Recovery Free Edition" to enter the main interface.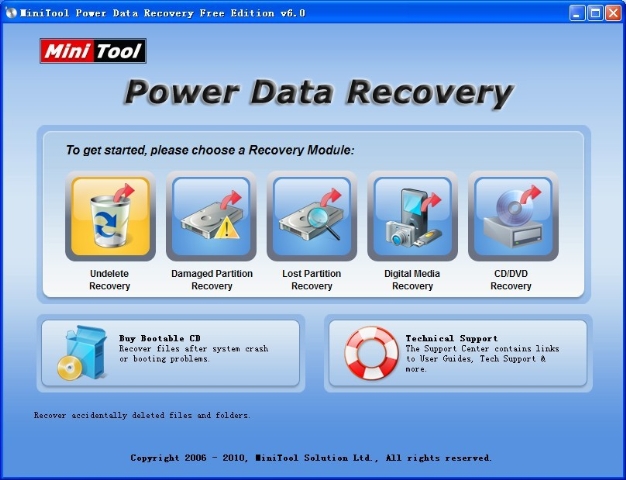 User should select "Undelete Recovery" to recover deleted files. Description to this module would emerge if user moves mouse on it.
Select desired partition and click "Recover".
Now user should first check wanted files and click "Save Files" to store them into assigned path. By performing these simple steps, user could successfully recover deleted files with MiniTool Power Data Recovey.