With the coming of information era, more and more people are likely to store important information in the optical disk CD. Although CD is very thin, it can store a lot of data, and many people use it. If protected inappropriately, CD is prone to be damaged and data in CD can not be read, which lead to data loss. We should pay attention to the following points to protect CD in order to avoid data loss in CD.
1. Affected by weather and temperature, sometimes there will be condensed water on the surface of CD and we should dry it with clean and soft cotton cloth.
2. The optical disk should be far away from dust and magnetic field. We should take it by holding its edge or center.
3. If there are blots on optical disk, we should wipe it from center to the outside edge with special cleaner. Some dissolvent with chemical composition like gasoline or alcohol is not allowed because they may influence the precision of optical disk.
4. The optical disk should never be touched by sharp tool in order to prevent it from being scratched because scratch will cause incoordination of laser bream and information output. If there are slight scratches on the optical disk, we could recover it with special polishing tool.
5. Since the optical disk is very thin, not more than ten should be piled up. Otherwise, the optical disk is prone to be out of shape, influencing its effect. If it is out of shape, we can put it into a paper bag and clamp it with two pieces of glass. Then put some heavy objects about 5 kg on the glass. The optical disk could be recovered after 36 hours.
6. Appropriate temperature is necessary for long term preservation of the optical disk. The suitable temperature is around 20 centigrade. Too high and too low temperatures will directly influence the optical disk life.

The above protection measures ensure the optical disk safety. However, we need not worry when encountering data loss, for example, the data in CD can not be read. CD recovery software is able to recover lost data in CD. The free CD recovery software MiniTool Power Data Recovery is recommended because of its comprehensive functions, accuracy, convenience, small size and simple operation. Then we'll introduce how to carry out CD recovery with MiniTool Power Data Recovery.

Realize CD recovery with CD recovery software
If you are annoyed about data loss in CD, you should pay close attention to the following operations.
Download MiniTool Power Data Recovery from the official website http://www.powerdatarecovery.com/ and install it. Then launch it.

In this main window, click "CD/DVD Recovery" to perform CD recovery.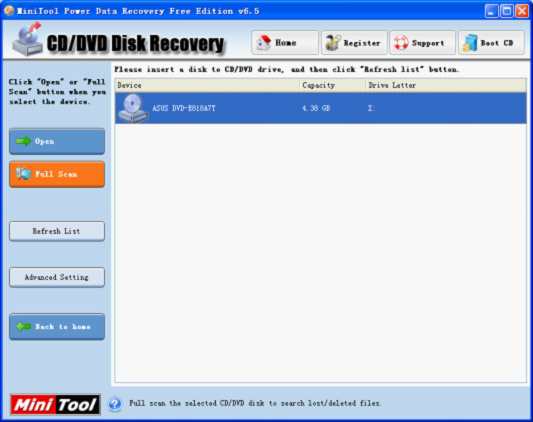 In this window, click "Open" to view all files in CD. If there is no desired data, click "Back" to return to "CD/DVD Recovery" window and click "Full Scan" to scan data in CD. The following window will be shown after the scan is finished.

The operation of MiniTool Power Data Recovery is so simple that we can finish CD recovery by clicking mouse. This CD recovery software can also help users recover lost data in many kinds of storage devices like U disk and memory card. MiniTool Power Data Recovery is able to recover lost data in lost disk partition as well as lost data in computer damaged by viruses. It is popular with many users because it is a good assistant for data recovery.