Best free data recovery software
An excellent data recovery software should have powerful functions, fast recovery speed, and high success rate as well as good compatibility. MiniTool Power Data Recovery and Mac data recovery software MiniTool Mac Data Recovery , the 2 pieces of free data recovery software developed by MiniTool Solution Ltd. are undoubtedly the best free data recovery software.

1. Functions: functions of these 2 pieces of free data recovery software are similar, and they can help undelete data and recover data lost due to partition loss or logical partition damage.
2 Compatibility: The Windows free data recovery software supports almost all mainstream Windows operating systems, and the free Mac data recovery software can run under almost all main-stream Mac operating systems perfectly.
3. File exploring and file preview: for sake of convenience, these 2 pieces of free data recovery software provide users with file exploring, so we can filter needless files out according to suffix, modifying time or file name, and then we can find lost files easily. Besides, file preview is good for viewing lost pictures.
4. Digital media file recovery: both of them offer "Digital Media Recovery" module which is specially designed to recover lost digital media files quickly and safely.
5. "CD/DVD Recovery": this functional module only can be seen on MiniTool Power Data Recovery, for Apple Inc. has canceled optical drive from Mac. So, MiniTool Solution Ltd. also cancels CD/DVD recovery from this free Mac data recovery software.

Excellent free data recovery software also has many other powerful data recovery functions. Now, let's take lost picture recovery for example to show powerful data recovery competence.

Recover lost pictures with MiniTool Power Data Recovery
At first, download free data recovery software from official website or from http://www.data-recovery-software.ca, and then install and run it to recover lost pictures.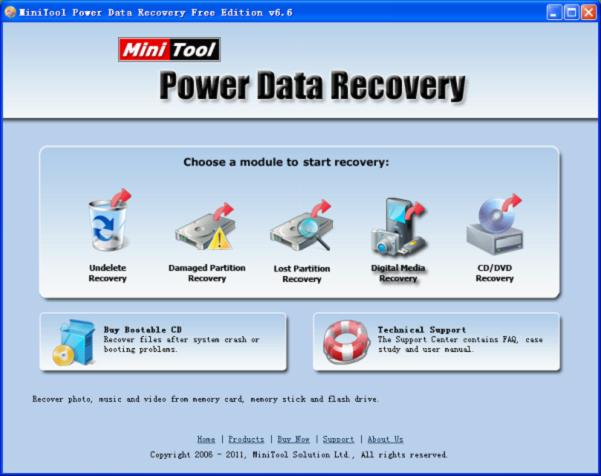 This is the main interface of this Windows free data recovery software. Since we are going to perform lost picture recovery, we should select the functional module "Digital Media Recovery".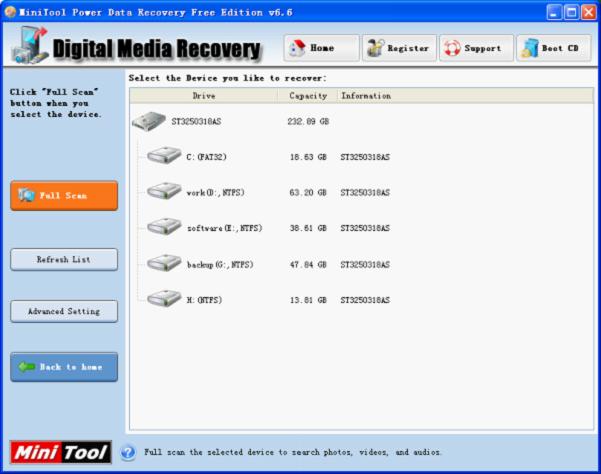 Here, we can see all disk partitions. Select the partition where lost pictures were originally stored and click "Full Scan" button to scan the whole partition. After scan, we will see the following interface: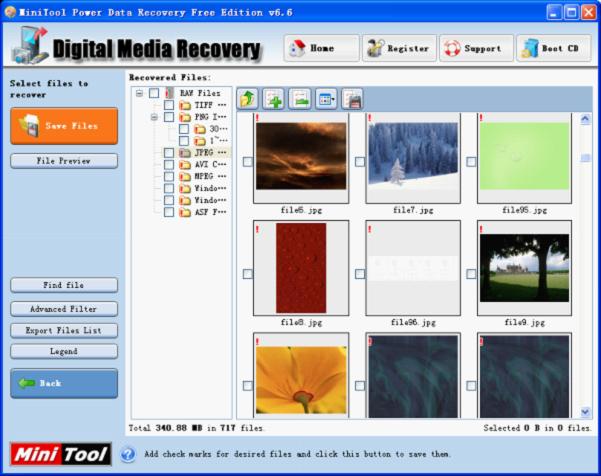 In this interface, we can see all lost digital media files. Check pictures which need recovering and click "Save Files" button to save recovered files to a safe place according to prompts. Now, lost picture recovery is finished thoroughly.